Author: Mala Blomquist
(Jewish News) Ever since he was a small child, Jacob Cohen, who is on the autism spectrum, has loved art. "We always have a jar of colored pencils on the desk," said his mother, Teri Cohen. "He has always liked to draw pictures since he was very young. Mostly Disney characters and if you look at his handwriting, it is very Disney-like."
His love for art influenced his mitzvah project. Inspired by a news story about the Crayon Initiative, he decided to collect crayons for the organization. The Crayon Initiative takes unwanted crayons, remanufactures them and provides them to hospitals that care for children.
Jacob became a bar mitzvah on March 11, 2017, at Temple Chai in Phoenix. His mother worked as the Temple Chai Early Childhood Center's office administrator when she was pregnant with Jacob and shared that Jacob has always felt very much at home there. He would spend his mornings at the Temple Chai ECC and afternoons at Serving Unique Needs (SUN) Kids, a preschool within the Paradise Valley Unified School District. At the time of his bar mitzvah, the family was living in Nevada but made a special trip to Temple Chai for the service.
At the end of May 2022, Jacob graduated from Pinnacle High School in Phoenix. Cohen was nervous that her son would be overwhelmed at the event, but he overcame his fears and walked across the stage to receive his diploma. During high school, Jacob took art class for two years with teacher Kelsey Greenland.
On May 13, an exhibition opened at The ArtReach Space inside the Scottsdale Center for the Performing Arts titled "Personal Effects." The exhibit features mixed media painting, photography and sculpture created by students from Chaparral and Pinnacle High Schools. The students "use meaningful objects, imagery and colors to express their authentic selves. The resulting personal allegories offer glimpses into the private worlds of the artists' identities with hopes that we too might share more freely and connect with each other more deeply," states the exhibit's description.
Jacob also collects Funko Pops, figurines that depict characters within pop culture, and never leaves the house without one. Cohen wondered if she would be able to recognize Jacob's art in the exhibit. When she got to The ArtReach Space, she immediately knew which piece was her son's.
"No denying at all it was Jacob's work — the Funko Pop in the middle speaks for itself," she said. "What blew us away is that he gave it up for the art piece and even painted it! He said it represented himself in the artwork and that amazed us. Also, he is always writing the Hebrew word 'chai' on his work and cards for people — it represents life and Jacob lives his life to the fullest. We are very excited for the next adventure."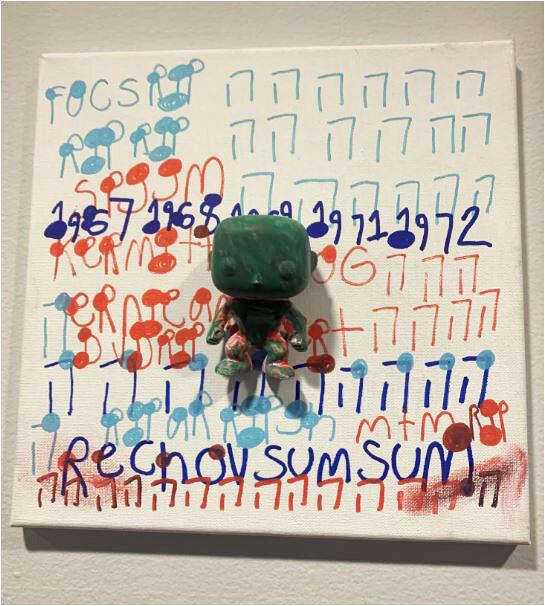 The plaque next to Jacob's artwork reads in part: "I created this work to represent things that are very important to me, especially movies which are a big part of my life. The blue and red used within the work represent my favorite colors … In the writing on the canvas, you will find the Hebrew word 'chai,' which represents life and my Jewish faith. … there is a vinyl figure, which I painted with my favorite colors to represent myself amongst these things. Before making this artwork, I didn't know that I could create my own vinyl figure and it is very cool to have one representing me! Throughout this project, Therosia Reynolds encouraged me and helped me feel good about my work."
Jacob shared with Jewish News more about his art piece, his Funko Pop collection and his plans for the future.
How did you decide on what you wanted to do for your art piece?
The artwork was about me and I love Funko Pops. I usually have at least one with me at all times.
Have you always enjoyed creating art?
Yes – I like to draw movie characters from Disney and 20th Century Fox animation. All animated movies.
What art mediums do you work with?
Colored pencils, paper and canvas. My favorite is coloring with colored pencils. I have done this forever. In school this year we also did a collage and that was something new for me.
How did you feel seeing your artwork on exhibit?
Great! Nice. It made me feel good to see it on the wall.
In the description of your art, you mention that Therosia Reynolds encouraged you, who is that?
She was an artist-in-residence in Ms. Greenland's art class.
You put chai on your artwork, what do you like most about being Jewish?
I go to Camp Ramah and sing songs, do prayers and eat challah. I like the holidays — eating latkes is the best!
Do you have other hobbies? What else do you enjoy doing?
Playing baseball (with the Miracle League), singing Broadway songs and watching Disney movies. We just took a graduation trip to Disney World.
How many Funko Pop figures do you have in your collection?
Over 80.
How long have you been collecting them?
About three years — I used to collect Disney figurines.
Which one is your favorite?
Hades: Lord of the Underworld from [the Disney movie] "Hercules" (1997).
Now that you've graduated high school, what's next?
I will go to a new school and do a program called Pathways. This is a life skills and job skills program. After two years, I am hoping to do an internship at the Mayo Clinic through a program with Project SEARCH (projectsearch.us) and then work at the Mayo Clinic.
The "Personal Effects" exhibition is open through July 31 at the The ArtReach Space inside the Scottsdale Center for the Performing at 7380 E. Second St. in Scottsdale. For more information, visit scottsdaleartslearning.org/exhibition/personal-effects.
This article was originally posted on Jewish News.
This post has been contributed by a third party. The opinions, facts and any media content are presented solely by the author, and JewishPhoenix assumes no responsibility for them. MORE