(PJ Library) – While there are plenty of gorgeous, kid-approved dinner ideas for Passover available online, and breakfast ideas a-plenty, lunch plans are a little harder to come by. Most of the ones we looked at just read: "leftovers" or "matzah-sandwich" over and over.
We surveyed parents on our staff and who run local PJ Library programs about their tried-and true-Passover lunch ideas and came up with this list of nine crowd-pleasers. You'll find main dish ideas that travel well and can be packed for school or lunch on the go, plus a list of snacks to round out your meal.
CAULIFLOWER PIZZA
Cauliflower pizza crust is a snap to make and the kids can choose their own toppings and help with the creation too. You can also use this "crust" as a base for sandwich toppings or roll ups. If you're pressed for time or want to shake things up, try these Cauliflower Pizza Bites. There are tons of cauliflower pizza crust recipes available online. To start, try this one from Joy of Kosher.
PASSOVER ROLLS / POPOVERS
image via King Arthur
Whether you call them rolls or popovers, these little faux-bread puffs are a treat on their own or stuffed with egg, tuna, or chicken salad. If you need a strictly vegetarian meal, try sending these with a thermos of soup and some cheese slices for a filling, comforting lunch. There are many variations on this recipe, here's one to start you off.
SOUPS
Hearty soups travel well when packed in a thermos. During Passover week you can experiment with one of our favorite recipes, Fire Roasted Tomato Soup. You can also send in leftover matzah ball soup from your seder, always a hit.
MINI KUGELS
Muffin tins will be your secret weapon for make-ahead, super portable breakfast, snack, and lunch dishes this week. This mini-kugel recipe from What Jew Wanna Eat is tasty, easy, travels well, and your kids will be able to help create it, easily. You can also try making mini-omelettes in your muffin tins or potato cups with eggs.
DELI ROLLUPS
Make a sandwich without the bread. Take your kids' favorite kosher deli-meats, roll them up with veggies, and pack a container of dressing or mustard for dipping. If your children aren't into meat, cheese and veggies work just as well. 
CHEESY POTATO PANCAKES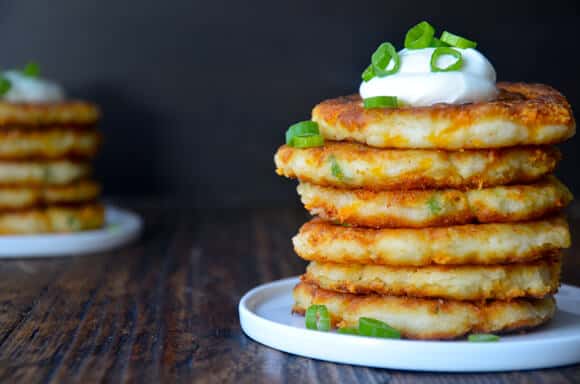 image via Just a Taste
Smashed potatoes can turn into potato salads or these savory pancakes. Another lunch staple? A foil-wrapped baked potato. Find the easy recipe for these kid-approved discs of carb-tastic goodnes, here.
LETTUCE-WRAPPED BURGERS
No chametz, no problem! Wrap your favorite turkey or chicken patties with lettuce, pack a container of dipping sauce, a few chips, and you're good to go. Lettuce-wrapped anything can be a treat for kids–so toss in some leftovers or chicken strips if you're strapped for time. New to lettuce wraps? Go for Boston Bibb lettuce–it's easy for kids to fold and a bit more nutrient rich than standard iceberg.
CUCUMBER CUPS
Hollowed out cucumber pieces are a great vessel for chicken salad, tuna, smoked salmon, cream cheese, or any other filling you can think of. Click here to watch a video tutorial showing just how easy it is to make these crunchy, healthy, edible cups.
RATATOUILLE & CASSEROLES
image via Tori Avey
Make ahead casseroles and one-pot dishes are easy enough to throw together and keep for the week. This awesome recipe from Tori Avey is full of veggies and would pair nicely with Passover rolls or cauliflower "rice."
SNACKS
Keep your kids bellies full all day by rounding out their lunch with some of these Passover snack staples:
Cut up veggie sticks with dip
Fruit kebabs or fruit salad with kosher for Passover yogurt
Cheese sticks and cubes
Israeli snacks like Bissli
This post has been contributed by a third party. The opinions, facts and any media content are presented solely by the author, and JewishPhoenix assumes no responsibility for them. MORE